FROM THE CITY TO SEATY
Originally from the south of France, Seaty has earned a place of choice among the most emblematic artists of Contemporary Art of the 21st century. And for good reason, the artist has never stopped reinventing himself, evolving, bartering the wild graffiti from the start of his career for works exhibited all over the world now. Back on the itinerary of a mysterious street artist known for his unique signature.
From a very young age, Seaty was rocked by urban influence by the permissive era of the 90s, oscillating between hip-hop music and the advent of street graffiti. From his passion for this musical current, follows that of his Art. In fact, when he was a teenager, the current of the 2000s led him into the street to establish his creative playground there through the urban works he produced across the city. With this form of expression a bit vandal, it is in 2008 that the autodidact decides to give new turning point to his Art and then devotes all his time to it, like a single rider whose goal is to share its artistic prism in the eyes of all. The hobby becomes his job and his creations go from rural walls to canvas. It would have taken very little time for Seaty to be inducted as a contemporary artist with aficionados of this much coveted sphere.
Over the past 20 years, the artist whose stage name "Seaty" is the homophone of "city", a tribute to the genesis of his career, has forged a recognizable signature marked by a hybrid style, split between realism and abstract. There is all its strength! Combining genres brilliantly and creating a unique work that is both melancholy and colorful, like a clever blend with pop-art accents. In the extent of his creativity, there is a constant work process. Black and white portraits of confusing realism, enhance with a burst of bright colors, a nod to the urban connotation dear to the artist. To conceptualize his large format portraits (note that the average size of a painting is 200 x 130 cm), Seaty directs his iconographic research on faces with strong looks, from ethnicities, tribes and different cultures.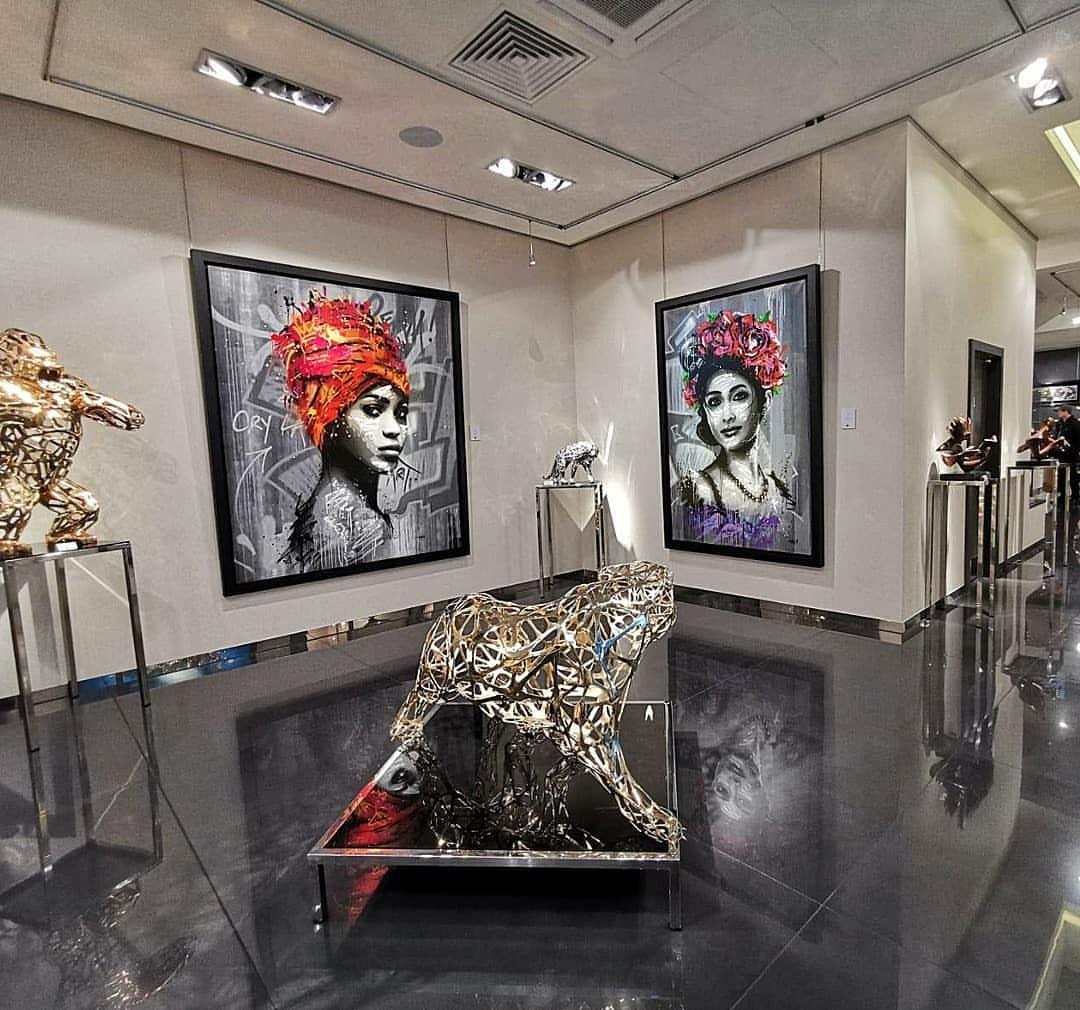 ​
Inspired by his many travels, the goal is to create a unique portrait, himself composed of several portraits. For each character from his imagination, Seaty incorporates an object, an accessory or a piece of jewelry. If the portrait with the lines of a realism close to photography is intended to be done in black and white, the object itself attracts lightning strikes with colors and graffiti thus offering a contrasting and subjugating work.
It should be noted that very quickly the French artist multiplied the taking of risks by varying his supports of creations: from canvas on wood to traffic signs passing by cars or even telephone booths. Because yes, if Seaty is known for its mystery and its discretion, bias that resonates with the urban side of graffiti, the latter is not avid for collaborations! Many have called on his world to create exclusive pieces. Thus, followers of his style were able to discover it in Monaco during an exceptional collaboration with the Mini MyWay dealer through a Mini Clubman entirely revisited by him, in Courchevel with the iconic British telephone booth injected with four profiles on each side. (Kingston, Habano, Dwarka and Yakasa), in Dreux, one of the facades of a building invites an XXL work or even in the Galerie Bartoux in Cannes through an extraordinary fresco. Most ? Collaborations with One Myzer or Aaron, which once again reflect his desire to exchange and share.
Cherry on the cake ? Seaty is far from having said its last word and has been working for 2 years on the creation of large-scale sculptures. If the project remains secret for the moment, Seaty reveals that these new works will be busts of African and Asian women respecting his 3 key words "colorful, urban and modern". Enough to mark his 20 years of career with a hot iron and to stir up curiosity in the sphere of Contemporary Art without moderation. Patience and languor.